Reconnect to the Natural World
Dave Clupper got his start collecting as a young boy, picking through this gravel driveway. The excitement of discovery and sharing that with others fueled a passion that has lasted his whole life.

Moving on from driveways, Dave began hunting fossils and agates out in the field and unearthed the friendly, good-natured community of Rock Hounds who were equally as excited about discovering our planet's treasures. His adventures have taken him across the country and let him see some amazing sights.
cacti in Arizona with chrysocolla
"It's always been about the sense of discovery"
After starting a family and beginning a career in Geology, the passion for being a rock hound stuck around and was something Dave was able to share with his family. He found that after a trip and finding amazing pieces he would always want to share some of those with his family and friends. There always was an incredible story not only about uncovering the piece, but also a story that often spans over millions of years in the piece itself.
Sharing that sense of wonder became almost as addictive as finding these treasures for himself. As Dave began to close his career in Geology, he was looking for what the next chapter might hold.
"After working 40 years in the oil and gas industry, I'm excited about the launch of a new career. I'd like to share my love and knowledge about geology and the treasures that the earth has given us."
Opening up Good Earth Rocks Gallery was an exciting new way to continue to promote the excitement and wonder with individuals and families who live and are visiting Oklahoma City.
Good Earth Rocks Gallery is located in Automobile Alley, a district full of story and an amazing community itself. The building's art deco features shine through and the tall ceiling and windows are the perfect home to display this amazing collection.
You'll find an assortment of fossils, crystals, jewelry, and more waiting to enhance your space. Whether it be a statement piece for your office, a crystal to brighten your home, or a one-of-a-kind jewelry piece to wear; you'll find premium items and one of the best collections around!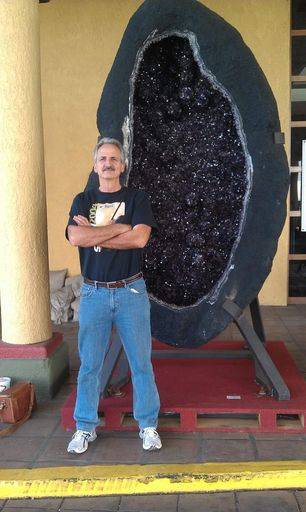 824 N Broadway Ave Oklahoma City, OK
goodearthrocksgallery@gmail.com